News & Events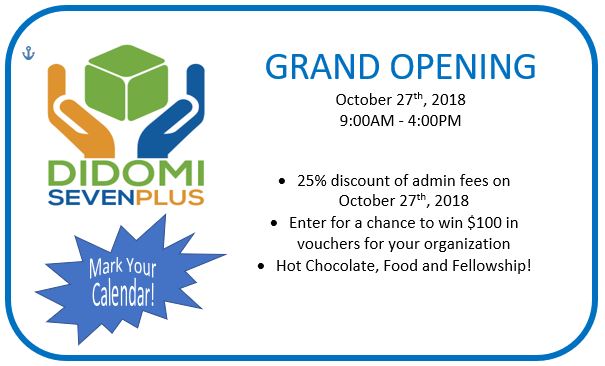 Grand Opening

Come help us celebrate our Grand Opening on October 27, 2018 from 9:00am to 4:00pm. Admin fees will be discounted by 25% and vouchers for your organization will be featured as door prizes. Save time by filling out registration documents prior to the event and bringing the necessary documents with you. Documents can also be emailed to info@didomi7.org

Good360 Blog Post

Didomi 7+ was recently featured in a blog post by Good360. Check it out!

Click here for more information

Volunteer Wednesday's

Wednesday's are now volunteer days at Didomi 7+! We are open and hosting volunteers from Noon - 4:00pm every Wednesday. We are looking for volunteers to help us sort and test new product donations. If you have an interest in volunteering please contact Trevor at (614) 949-0775.