News & Events
Toys for Tots teams up with Didomi 7+
April 9, 2020

Toys for Tots teams up with Good360 and Didomi 7+ to Provide Toys, Games and Books to Families in Need During COVID-19 Crisis
Triangle, VA - The coronavirus pandemic has shuttered countless businesses, forced families to remain isolated in their homes and has resulted in millions of parents now being unemployed, without income, and in dire need of support. While Toys for Tots is the nation's flagship children's Christmas-time charity, the organization is not waiting until the holiday season to provide support. In order to provide immediate relief and assistance now, Toys for Tots has partnered with Good360 and Didomi 7+ to help us distribute toys, games and books to families-in-need in Central Ohio.
The Marine Corps Reserve Toys for Tots Program collects and distributes an average of 18 million toys to 7 million less fortunate children each year during the holiday season. As the global leader in product philanthropy and purposeful giving, Good360 partners with socially responsible companies to source highly needed goods and distribute them through our network of diverse nonprofits that support people in need.
Didomi 7+ is a Good360 designated Community Redistribution Partner (CRP) with special authorization to redistribute donated goods to the local community. Didomi 7+ aims to equip non-profit organizations with products and supplies to optimize their resources for mission fulfilment and support the local community. Didomi is using their network of non-profit organizations in the central Ohio area to aid in distribution. This partnership is a perfect way to get toys into the hands of children and families that can benefit from them.
"In these unprecedented times, we're deeply concerned about COVID-19 and its devastating impact on the lives of all Americans and want to offer assistance now," said LtGen Jim Laster, USMC (Ret), President & CEO of the Marine Toys for Tots Foundation. "We are proud to partner with Good360 who answered the call to help get these toys into the hands of families in need as soon as possible."
Toys, books and games offer many benefits during this extraordinary time of need. They will help to combat boredom, relieve anxiety in children, facilitate a return to normalcy, and even contribute to the educational development of our nation's most precious resource – our children.
"Good360 is proud to join forces with Toys for Tots to bring some joy and support to families with children," said Matt Connelly, CEO of Good360. "We are seeing a dramatic rise in demand for a wide variety of personal and household items, including toys. We are pleased to be able to leverage our vast nonprofit distribution network to provide a measure of relief to families weathering this crisis."
Together we are more than just the sum of our parts – providing us with an opportunity to "do more good." Thank you, Toys for Tots, and Good360 for allowing Didomi 7+ to provide hope and a little bit of normalcy to the Central Ohio area.
For additional information or to seek support from this initiative, visit www.Good360.org and/or www.toysfortots.org.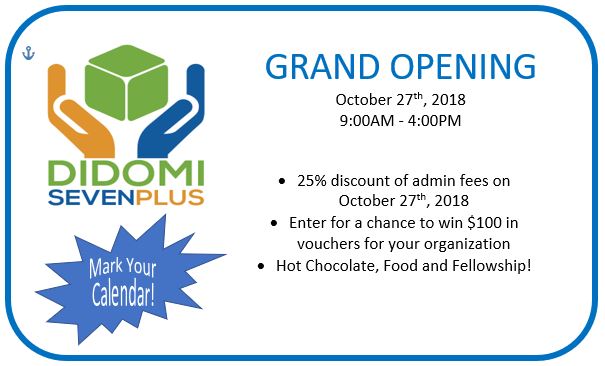 Grand Opening

Come help us celebrate our Grand Opening on October 27, 2018 from 9:00am to 4:00pm. Admin fees will be discounted by 25% and vouchers for your organization will be featured as door prizes. Save time by filling out registration documents prior to the event and bringing the necessary documents with you. Documents can also be emailed to info@didomi7.org


Good360 Blog Post

Didomi 7+ was recently featured in a blog post by Good360. Check it out!


Click here for more information

Volunteer Wednesday's

Wednesday's are now volunteer days at Didomi 7+! We are open and hosting volunteers from Noon - 4:00pm every Wednesday. We are looking for volunteers to help us sort and test new product donations. If you have an interest in volunteering please contact Trevor at (614) 949-0775.